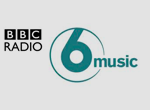 6 Music is the BBC's national alternative outlet, playing a broad range of music including indie, rock, electronica and punk.
Custom FX and sound design for 6 Music
In March 2011 we were chuffed to win the tender to produce a massive custom package of production tools, effects, elements and music for BBC 6 Music. As the heart of the station's imaging and sonic identity, the aim was to create a package that's evocative of 6 Music's heritage that also delivers something that hadn't been done before. The result is alternative and consistently credible sound design with a tight, contemporary feel that energises the newly reinvigorated 6 Music.
The FX and elements create a distinct and unique sound for 6 Music by being very much steeped in both live sound and the feel of musicians jamming in the studio whilst using modern music production techniques to create the cut-through they need for imaging. The cuts have a range of functionalities – from quick and exciting punctuators to more textural and layered stagers. The FX are raw and visceral in places and highly produced in others – just like the eclectic range of tracks played on 6 Music.
In the second demo you'll hear how the effects, elements and music are worked into 6 Music's idents by the in-house team. This demo also contains some short music excerpts created by Wise Buddah.