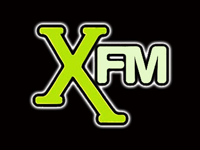 The XFM Network (Now Radio X) champions the best in credible new music Format: alternative
New custom music
for the world famous XFM
Music production and sound design
We were commissioned to produce the new top of hour and news sequences for the XFM network in 2006. Tense, dark and atmospheric, the beds are thematic whilst each one remains distinctive.
The demo audio comprises the news, travel and weather beds, together with the top of hour opener (talk-over donut) and 'new music upfront' bed.
noise fusion defines the sound of XFM
Audio imaging, sound design and music production
noise fusion's long standing relationship with XFM continued in 2005 as we further pushed the audio imaging envelope. Building on the package we'd created the year before, we produced new custom music and imaging for the top of hour sequence, together with IDs and branding across the station's output incorporating new custom FX. Now used as out of break IDs, we also produced a new set of our trademark beat-matched music imagers.
Audio imaging and sound design
Evolution not revolution was the way forward for XFM's branding in 2004. New voices, but a continuation of the trademark XFM sound. Additional production elements supplied by Killerhertz 4.
Music production and sound design
noise fusion creates music across all facets of XFM's station branding. Examples here include the news sequence, 'Xposure' and 'The Guardian Guide'.
Sony Award winning imaging for XFM
Audio imaging and sound design
Ben Neidle, Elizabeth Conboy and guest voices
This package was created out of a desire to add punch to XFM's sound whilst retaining the station's live, raw feel. This package also unleashed noise fusion's genre-blending beat-matched music imagers onto XFM.
There's nothing else like this
Audio imaging and sound design
Jonathan Magnanti and Elizabeth Conboy
An unashamedly different style of audio imaging. The feel varies from wide-screen cinematic pieces to industrial, violent and highly intense IDs.
Audio imaging and trailers
For the third year running, XFM launched its Rock School promotion, now rolled out across the network.
Seeking something a little, well, different from the usual XFM sound, the team approached us to produce all the promos and imaging. As the demo proves, we can do silly too.