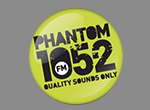 Dublin's Indie Rock - Quality Sounds Only.
Format: alternative /indie/rock
audio imaging and music production
Dave Davin and Kate McEvoy
Our long-standing relationship with Phantom continued in 2012 as they commissioned a brand new sound for Dublin's rock station. Working to the concept of "music that rocks" we created powerful package that layers guitar and aggressive noises juxtaposed with vox pops. This unique combination injects a vibrancy and playfulness into the sound. With the move to all Irish voice artists, the transition to a new sound was complete.
Based around ten core idents and three news sequence beds, the complete package totals an incredible 90 cuts. Each cut receives a full remix, lots of cutdowns and various dry and semi-dry versions.
This package is now available for worldwide syndication -
get in touch
for details.
Dublin's Indie Rock returns
music production and sound design
Jude Corbett and Kate McEvoy
Phantom approached us in the autumn of 2008 to create a fresh package for the station. The package is a consolidation of the sound we devised two years previously, with some new twists while remaining true to the original sound and thoroughly rock n roll.
Deeply alternative and aggressive idents juxtapose cuts that really don't take themselves too seriously. There's also a new strongly thematic news sequence, with seamless transitions between the beds. Phantom doesn't have a sonic logo per se, but we injected powerful mnemonics into the themes for strong brand recognition.
Audio imaging, music production and sound design
Jude Corbett and Kate McEvoy
We like music. Especially alt. indie rock and stuff. So when the guys at the former Dublin pirate, Phantom FM, went legit - meaning they finally had some budget for their imaging - and decided to spend the cash on a launch package from noise fusion, we were chuffed.
Brimming with attitude, it's a confident package for a confident new alternative station. The imaging gives a nod or three to the station's pirate roots, while sticking a number of fingers up at its competitors...
The package consists of 25 main idents, based around our
ID_1 effects package
, together with a thematic news, sport, travel, weather and top of hour sequence. This includes our favourite - a very gloomy weather bed - the perfect match for those dark winter Dublin skies.