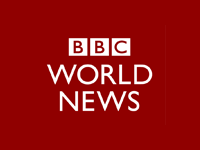 BBC World News is the BBC's international news and current affairs television channel. It has the largest audience of any BBC channel and any news channel in the world.
BBC News Aftershock theme music
Music production and sound design to picture
The economic downturn of 2009-2010 received blanket coverage from the world's media. BBC World News launched a season of news and programmes called Aftershock investigating the impact of the global recession and turned to noise fusion to create the title music and sonic branding.
Our brief was to create a piece which portrayed the severity, intensity significance of the crisis – music with weight and gravitas – while at the same time sounding hopeful. We avoided the more obvious orchestral route and instead used contemporary electronica sounds - juxtaposed by eerie organic bells for the sonic logo – to create a dramatic sound that veered towards the conspiratorial.
This video demo features the full length title music ident and animation, while the audio contains the 5" sting version followed by the sting + bed version of the piece.
You can find out more about Aftershock and get a taste of the branding in action on
this BBC video
which features a cutdown of the ident followed by the full length bed.