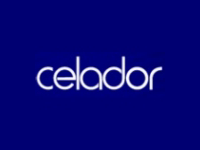 One of the UK's most successful independent television production companies, producing world-wide phenomena such as 'Millionaire'.
noise fusion goes widescreen
The World's Greatest Singer
Carina Iglecias, Celso Sim, Laura Schichvarger, Kosé Costa Filho,
Andrew M White, Ben Neidle.
noise fusion was proud to win the pitch to create the title and incidental music for a new programme from Celador. Called The World's Greatest Singer, Celador intends to broadcast the show across more than 18 countries in the quest to find top international singing talent.
The brief was to produce a piece of music with a huge vocal and choral sound and a strong cinematic feel, based around the concept of "many voices coming together". A truly international production, the track was composed in partnership with Andrew White in Brazil. Vocals and orchestral elements were recorded in São Paulo, while the piece was mixed and arranged in London. And the outcome? Truly widescreen.
The audio demo contains the full international title mix, followed by some of the many incidental elements and mixes created for the show.
Post production kicked into shape
The FIFPro World XI Player Awards
The FIFPro World XI Player Awards is a world football awards ceremony devised by Celador. For the pitching the programme to the world's broadcasters the team at Celador Music and Events approached noise fusion to provide the huge Hollywood soundtrack. We relished the challenge of making a modest football kick sound more like something from Independence Day.
The show was later commissioned by Sky One in the UK and beamed to more than 250 million viewers worldwide.
Fat sounds... thin models
The World's Greatest Model
Celador Music and Events created this trailer to demonstrate a new show concept to national and international broadcasters. Our audio post brief was again to create larger-than-life movie-like sound to fit the ambitious nature of the programme.