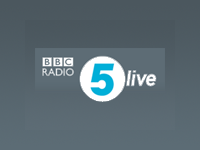 BBC Radio 5 Live is the BBC's national radio service that specialises in news and sport. It is the principal radio station covering sport in the UK, broadcasting virtually all major sporting events with a particular emphasis on football.
Music production and remixing
In May 2010,
PRS for Music
revealed that the Match of the Day theme tune is the
most recognisable in the UK
. So when it came to reworking the theme for 5 Live's Match Of The Day 2 programme, a healthy respect of the original work was required. The BBC didn't want the theme diluted in any way but equally did want the music injected with some playfulness and brought up to date – all in just an eight second execution of what was originally a twenty second piece.
The eight second ident morphs into a talk-over bed for Colin Murray's show opening. As well as applying the obligatory fairy dust and judicious amounts of Turtle Wax and to the vanilla theme, we created accompanying electro elements and percussion, designed to gel with 5 Live's station sound.