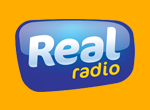 Real Radio was an independent radio network broadcasting across much of the UK. Format: CHR/AC
We were commissioned to produce some fresh-sounding, feel-good custom tracks for some big name promos and contests running on the Real Radio Network in Spring 2013. Here we demo the main 30" mixes of two of the beds we produced; each track left the studio with a dozen mixes and versions.
We also created set of five branded custom beds for the Real Network with a driving feel for use as talk-over throughout the Network.
Music production and sound design
The Real Radio Network wanted us to create some unique music for their competitions and coverage surrounding the royal wedding in April. So, we took the Real Radio sonic logo... morphed it into the traditional organ wedding march... which became a drone... which segued into some shimmering contemporary pop/disco. The result is a slick and flexible package of standout beds, drones and stings that sounds that we think sounds royally good.
The demo above lets you hear the music and sound design we created in its pure form - this is just one of the many mixes we supplied. In the second demo you can hear how the music was used in promos by the guys at Real.
This is not a test. This is Real.
We were commissioned to produce a series of beat matched music imagers for the launch of Real Radio Wales. The cuts were also to run on the station's test transmissions.
To change things up we not only seamlessly blended, mixed and mashed the songs together but the tracks were also combined with Real's sonic logo and some creative voice-over copy we wrote. The result is a set of cuts that are powerful but also fun and playful and they set a great tone for the launch of Real Radio Wales.