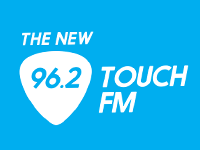 A new male-orientated AC format. Together with Oak FM, forms Quidem's "We Never Grew Up" Network.
Audio imaging, sound design & music production
The team at Touch FM rightly think that independent local radio in the UK needs some shaking up. Some attitude. Some fun. A partnership with noise fusion seemed like the perfect match.

The station commissioned a full station imaging package including custom news, sport, travel and top of hour beds with a powerful new sonic logo. Touch also wanted a set of our trademark music imagers and we were happy to oblige, particularly enjoying working with the 80s and 90s tracks that permeate much of the playlist.

With an irreverent strapline and playful scripts, many of the idents don't take themselves too seriously. Sonically, the emphasis was on the station's predominantly male demographic and strong guitar based music, with a generous helping of retro.
All in, we supplied an incredible 60 cuts to Touch FM for this package. We also provided a customised version of the package for Quidem's 107 Oak FM stations.
The package is now available for worldwide syndication and licensing.
Contact us
for details.