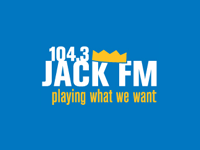 Jack FM is an innovative "playing what we want" radio franchise, with stations throughout the world.
Jones TM Inc. in Texas, USA is charged with producing the idents for the Jack FM brand. But when they decided it was time to shake things up, they turned to world-leading audio shaker-uppers noise fusion. And yep, we erm shook it up.
We were commissioned to produce some new idents by taking existing vocals from a variety of cuts and working them into brand new material we'd compose. And so we mashed, mangled, created new sounds and genre-blended to produce some genuinely innovative sung ids. Full of massive guitars, subtle pads, glitch, ambient grooves... we play(ed) what we want(ed).
The audio demonstrates two cuts with full length, slogan and talk-up versions.