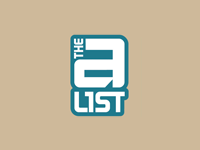 The A List is a nationally syndicated adult contemporary chart show, airing on stations including the Heart Network, the Century stations and the Real Radio group.
Audio imaging, music production and sound design
The A List is a unique chart concept that combines airplay data with single and album sales and downloads. Sponsored by Baileys, the challenge was to create an equally unique sound which was to be laid-back, while pacey and energetic enough to give a real chart show feel. With this in mind, we composed the show's main theme around a heart-beat concept, and from this the rest of the branding flowed.