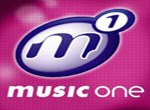 One of the biggest and most respected dance music stations on the net, Music One streams online 24/7.
Audio imaging and music production
Music One commissioned us to rebrand their station sound from the ground up. A package of 10 main idents included alternate mixes, shotguns, cutdowns and dry versions, totalling an incredible 60 cuts. A fresh and contemporary sound that draws on many of the trends in dance music of the moment, it was designed to be distinct, big and bold but also to mix well with the station's music.
All music was custom produced for the package and is now available for re-versioning.